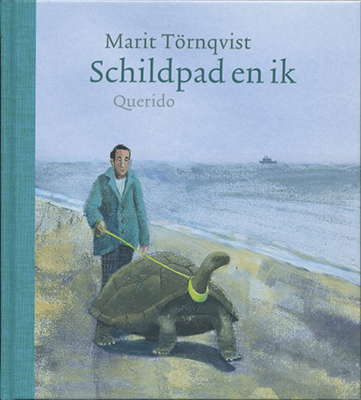 Tortoise and Me
From the site of the Dutch foundation for literature:
Very occasionally a book comes along that you hope will become a classic, not only in the Netherlands, but also in the rest of the world. This is one of those books. It tells the story of a boy who gets a young tortoise as a present from his grandfather.
That tortoise grows bigger and bigger. At first, everyone thinks it's funny. They just need to knock a hole in the wall next to the door so that he can come in. But when his owner grows up and can't find a girlfriend because of his clumsy housemate, he decides to return the animal to the country where he was born. He comes back home with much more than he left with.
Törnqvist has found a beautiful, light and accessible metaphor for a topical and painful issue, in which a tortoise reminds us what it means to be human.
Shortlist De Boon literature Award, Belgium:
Words of the jury:
Tortoise and Me by Marit Törnqvist has only one problem. It's too beautiful. The illustrations are beautiful. You want frame each page. The story is of a moving beauty. The turtle that is not just any pet but a metaphor for everything you silently carry with you. What makes you who you are but might as well become a burden.  Every page you turn you're afraid that this imagery is going to get stuck, but it never does. A little gem.